Roosevelt Law Center PC is proud to be highest rated Law firm in the Nation!
you don't have to take our word for it:
Make sure to visit our reviews blog with weekly updated videos, reviews, and real estate news. Visit here!
The Buckner family were kind to make and share this testimonial video about our Legal Team had Roosevelt Law Center PC protecting their legal
Adrian shares his experience with Roosevelt law Center PC
Kateeda's video testimony about her experience with our legal team here at Roosevelt Law Center PC.
Below: Watch the below video testimonials we received during the Fall of 2021 going into 2022.
Thank you to the lovely Tint Family for making and sharing this video talking about their experience with Roosevelt Law Center PC. We are very proud to have served and protected the family's legal rights as homeowners.
Lewis was kind to share his experience and review of our Legal team here at Roosevelt Law Center PC.
Richard, always a true gentleman, was kind enough to share his experience with our legal team here at Roosevelt Law Center PC. All of us here at RLC are extremely proud to have helped him stop the foreclosure on his home, and get him back on track with a great result. Thank you and God Bless you and your family.
Thank you Mr. Robles for making this great testimonial video, and sharing this lovely photo of your beautiful family. God Bless you all. Thank you for also sharing your personal experience with our Legal Team here at Roosevelt Law Center. All of us here at RLC, especially William, Attorney Moore and Craig are extremely proud to have served your family's needs. From Foreclosure sale, to protection and a much more affordable mortgage payment, this was a fantastic result for a fantastic family.
Retha shares his experience with Roosevelt Law Center PC. From being in active Foreclosure sale and being ignored by her mortgage company, to contacting Anthony at HPA, to being referred to our law firm and having her foreclosure stopped, and her mortgage payments reduced. The video and her own words speak for themselves. No need for us to explain or say anything more. This video is a MUST WATCH!
Gina shares his video testimonial about the Legal team at Roosevelt Protecting her home from foreclosure. AND reducing her payments to a lower payment so she can now stay ahead of payments and not have any future issues!
As for Google Reviews: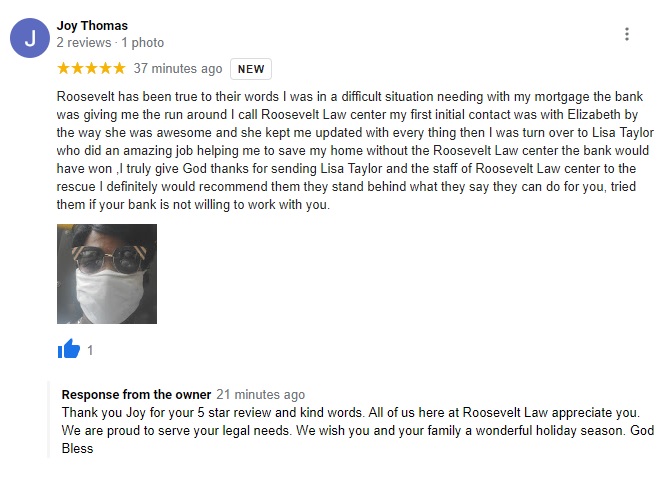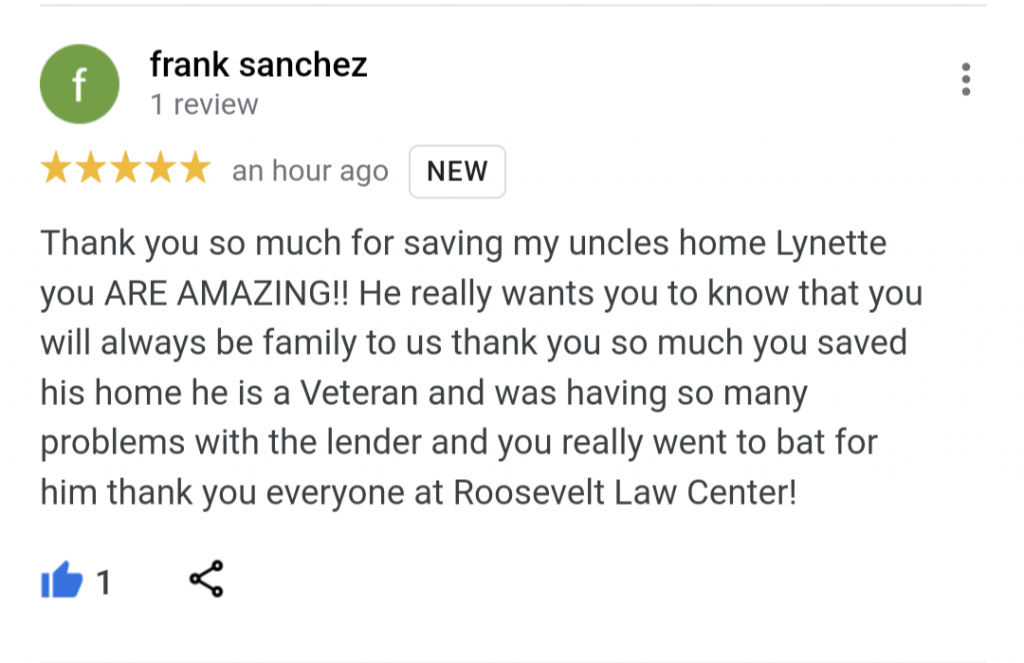 Proud to have protected another brave Member of the Military Family!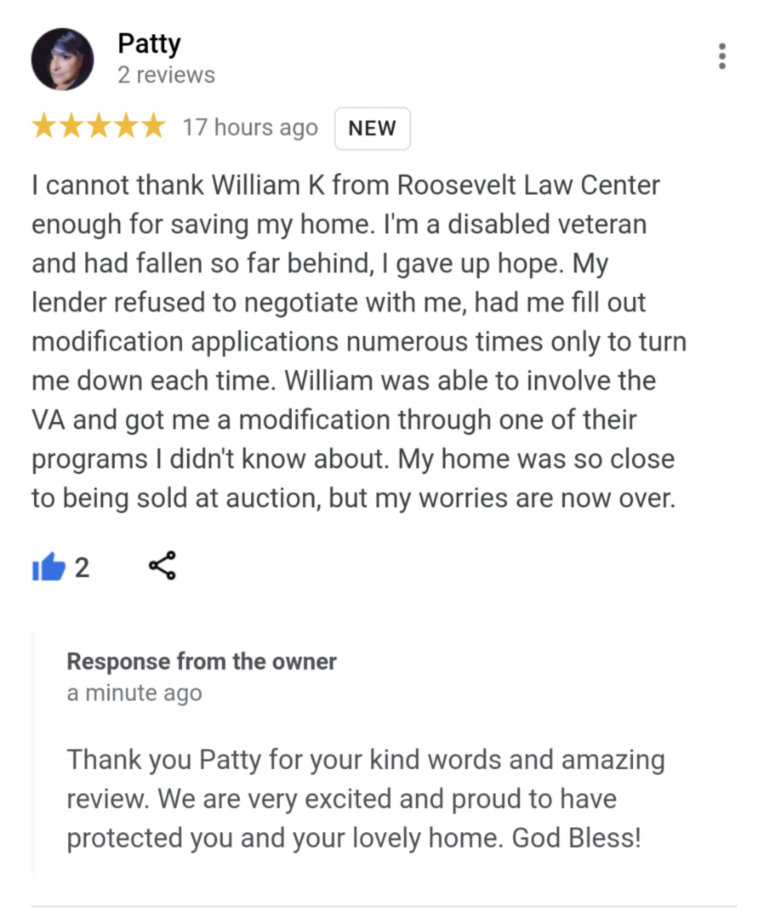 "I cannot thank William K from Roosevelt Law Center enough for saving my home. I'm a disabled veteran and had fallen so far behind, I gave up hope. My lender refused to negotiate with me, had me fill out modification applications numerous times only to turn me down each time. William was able to involve the VA and got me a modification through one of their programs I didn't know about. My home was so close to be sold at auction, but my worries are now over" 

Reviews and letters like this make our job worth all the stress and hard work. We are so proud to have helped this wonderful member of our Country's Military Family protect her home from foreclosure. When no-one else would or could help her, Roosevelt Law Center accepted the challenge and delivered the rescue.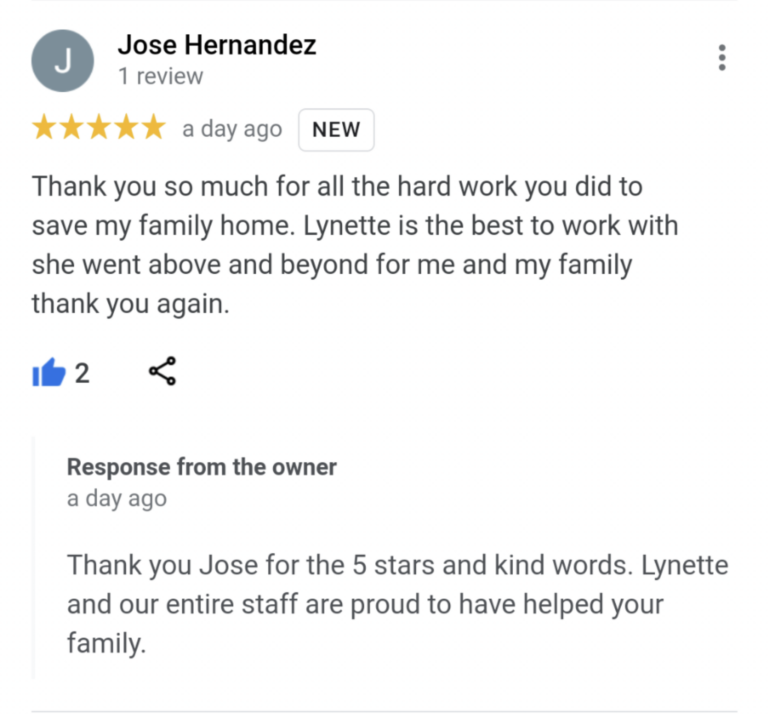 "Thank you so much for all the hard work you did to save my family home. Lynette is the best to work with she went above and beyond for me and my family thank you again."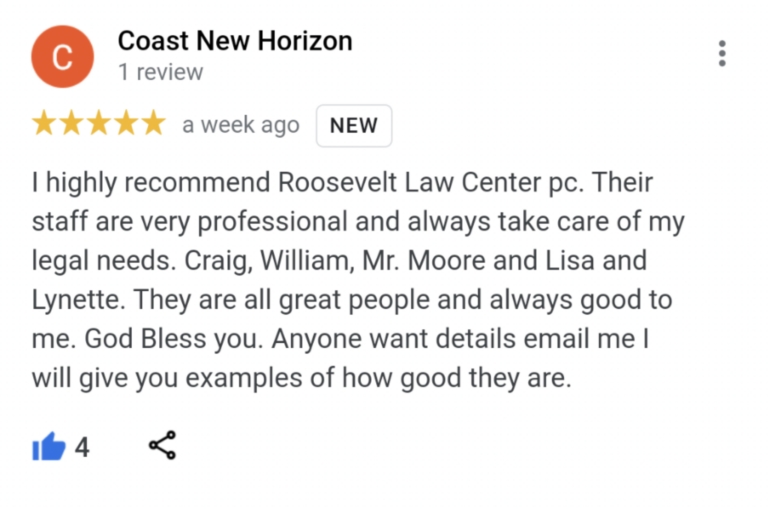 "I high recommend Roosevelt Law Center pc. Their staff are very professional and always take care of my legal needs. Craig, William, Mr. Moore and Lisa and Lynette. They are all great people and always good to me. God Bless you. Anyone want details email me i will give you examples of how good they are"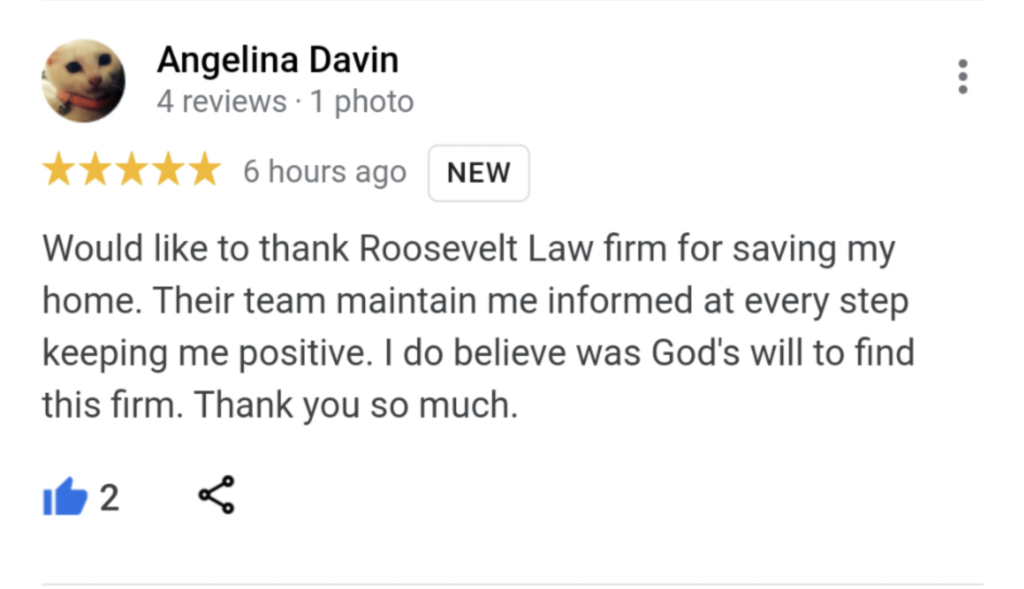 "Would like to thank Roosevelt Law firm for saving my home. Their team maintain me informed at every step keeping me positive. I do believe was God's will to find this firm. Thank you so much."
As for Better Business Bureau Reviews: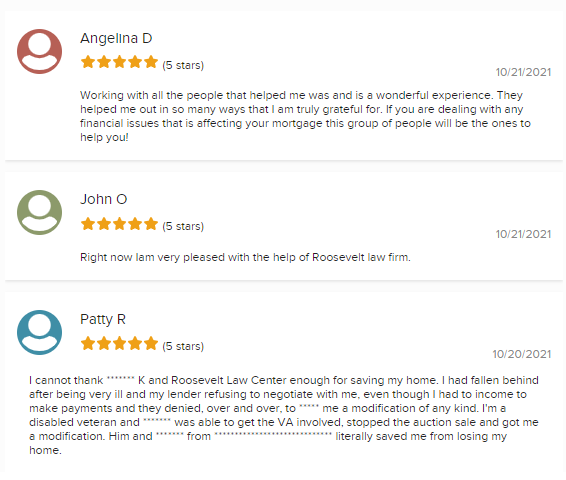 on October 21st, Angelina posted on the BBB "Working with all the people that helped me was and is a wonderful experience. They helped me out in so many ways that i am truly grateful for. If you are dealing with any financial issues that is affecting your mortgage this group of people will be the ones to help you!"
On October 21st 2021, John posted on the BBB "Right now I am very pleased with the hep of Roosevelt Law firm"
On October 20th, Patty wrote: "I cannot thank William K and Roosevelt Law center enough for saving my home. I had fallen behind after being very ill and my lender refusing to negotiate with me, even though i had to income to make payments they denied, over and over to offer me a modification of any kind. I'm a disabled veteran and William was able to get the VA involved, stopped the auction sale and got me a modification. Him and Craig and Roosevelt Law Center literally saved me from losing my home."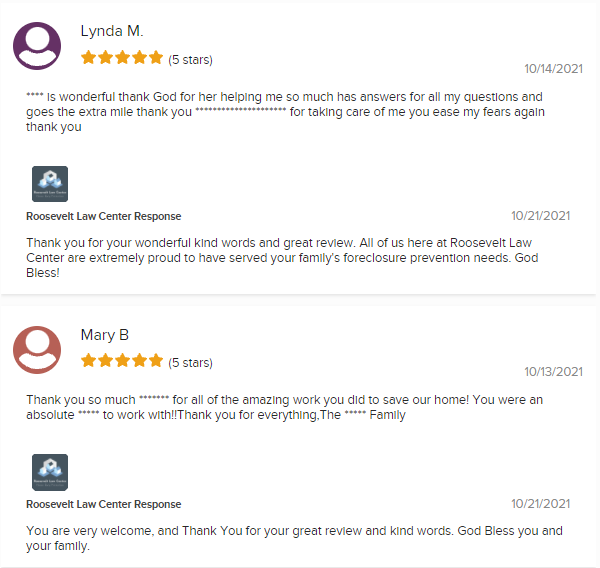 On October 14th, Lynda reviewed Roosevelt Law Center with: "Lynette is wonderful, thank God for her helping me so much has answers for all my questions and goes the extra mile. Thank you Lynette Tyree for taking care of me you ease my fears again thank you"
On October 13th, Mary reviewed Roosevelt Law Center with: "thank you William for all of the amazing work you did to save our home! You were an absolute joy to work with!! Thank you for everything. The Brown Family"
you can read the hundreds of ALL positive reviews on the BBB at: https://www.bbb.org/us/ca/oceanside/profile/real-estate/roosevelt-law-center-1126-172011171/customer-reviews